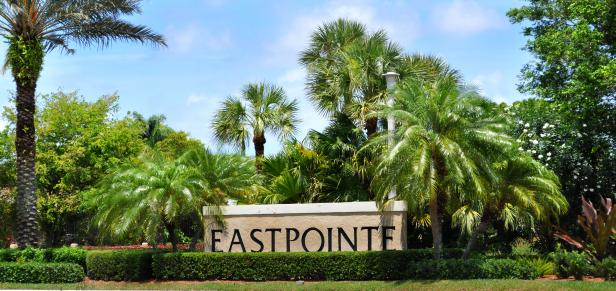 Eastpointe was built roughly 30 years ago by GE. It was built in two sections. The first was planned when an adjoining parcel became available and was brought into the project. The result was 2 golf courses and 2 clubs surrounded by wonderful homes, that while on the same property have operated independently. That is about to change. As of November 1 of 2015 the two clubs will become one and everyone is celebrating.
Eastpointe is located immediately west of I95 on Donald Ross Road in Palm Beach Gardens, FL.
Here is a bit about what they offer.
Eastpointe Country Club (East)
The golf course here was designed by George Fazio and his nephew Tom. It offers wide open long fairways. In 2007 the course was completely done over and so was their club house which offers dining, a card room, pro shop, practice range, 6 tennis courts and fitness center in an adjacent building.
Eastpointe Gold and Racquet (west)
This golf course was designed and built by Tom Fazio. A par 70 course, it is a bit narrow and has some challenging water hazards. But equally fun to play. The club house offers a grill room, dining room, pro shop, fitness center, practice ranges and 10 tennis courts with a tennis pavillion. This club also has a 2800 sqft resort style pool.
A few years ago Billy Kasper's organization took over the day to day operations of Eastpointe Country Club and has done an outstanding job. As of July 1, 2015 they also took over Eastpointe Golf and Racquet and on July 15 an agreement was signed to officially merge both clubs to one club as of November 1, 2015. The opportunity is huge for the current residents and members as well as future residents as home values climb. Where else can you live in a true golf community (where everyone gets around in their golf carts) and have two golf courses with two clubs and assorted facilities without an equity membership? Social memberships are available and a couple or family can enjoy full golf privlages and use of all facilities for under 10k a year.
The Eastpointe homes for sale vary from condos in the 100k range, to golf villas and larger homes to the mid 700s. Victoria Lorusso, a resident Realtor with 20 years of experience in the industry can guide you to finding the perfect home. To start browsing for a home now, click here Eastpointe Homes For Sale
Or call or mail Victoria at 561-531-4977....Victoria@Jeffrealty.com